WARNING: IT IS NOT POSSIBLE TO CHANGE WHAT THE INITIAL STARTUP FIELD IS WITH TAB-CONTROL AS THAT IS DEFINED BY SAP. IF YOU WISH TO SET A NEW STARTUP FIELD THEN YOU CAN USE THE B1 VALIDATION TO DO IT.
Once you have activated the Tab Control system you might notice that it does not seem to get any additional configurations. That is because the configuration happens directly and interactively on the window that you want to configure. Here, we use the Sales order as sample, so we open this window.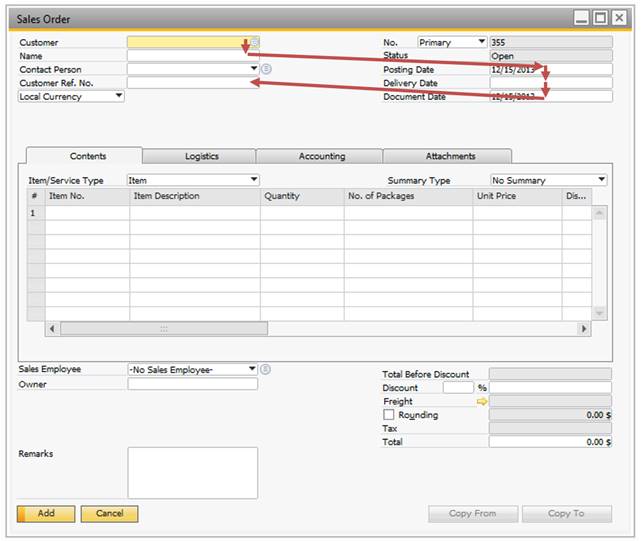 In the sample we wish to do the following:
- We wish to start in the customer field
- Then go to the Name field
- Then go to the date fields
- And finally go to the Customer Reference Number
In order to do so we hold down the CTRL + SHIFT keys and double-click on our initial field (That being the Customer field). Doing so brings up the following dialog

Since we wish to create a new tab-control we choose start which brings us to the next option.

Here you can choose if the change you are about to make is something that should be used by all the B1UP users or if the setup you are about to record is only for the current logged in user. In this case we choose "All users".
The window is now in "record mode" and have included the first element in the new tab control. All you have to do now is click the fields in the order that you want the new tab control to be.

As you click your way to the fields they turn green to indicate that they are now part of the tab control.
When you reach the end of your configuration, hold down CTRL + SHIFT again and double click on the last field you wish to be part of the configuration. When doing so, you will be prompted to save your data.

If you press "Yes" your new configuration will be saved.

As indicated in the message box, you should now close the window that was used for the configuration, and now when you open it again it will use the new tab-control.