NB: THIS IS AN ONLINE SERVICE THAT REQUIRE AN ACTIVE INTERNET CONNECTION. IF YOU USE PROXY YOU NEED TO SET UP THE PROXY DETAILS IN THE SAP BUSINESS ONE GENERAL SETTINGS
Enables you to validate Federal Tax Id's of Business Partners in the European Union (From web service http://ec.europa.eu/taxation_customs/vies/services/checkVatService.wsdl).
If activated, the add-on will check the entered Federal Tax Id on the Business Partner and determine if is valid. If not valid, user will be prompted that Id is not valid and want to continue.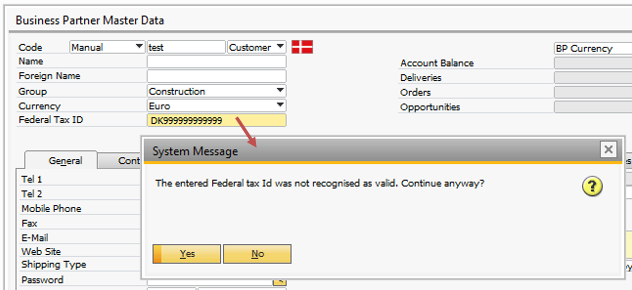 In the sample here we have written an incorrect Danish Tax Id (Language is determined by the first two letter in the Tax Id)
Please note that this requires an active internet connection in order to work. Should you activate this on a machine not being able to reach the service you will get an error message.