This widget allow you to have Clocks there shows the time in different Timezones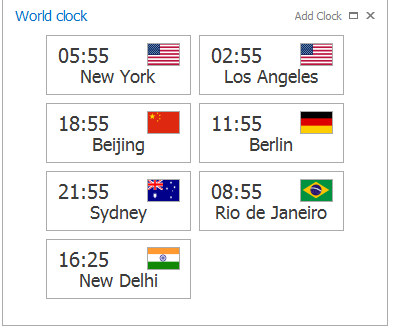 You can customize what clocks you wish to see.
The widget have the following features:
Add new Clock
If you press the "Add Clock" button at the top right you are presented with the following screen

First you need to choose what TimeZone the clock should show the time for.
Then you need to do is give your Clock a caption and optionally an Flag.
When do you press OK and the Clock will be added to your World Clock widget
Edit and remove shortcuts
If you need to edit or remove a already defined clock you simply right-click it and choose "Edit" or "Remove"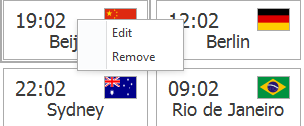 Edit will bring up a screen similar to the Add Clock where you can re-define your Clock (new TimeZone/icon or caption)

Re-arrange clocks
You can re-arrange the clock in the World clock area by drag and drop. Simple drag one on top of another where you wish to place it and it is moved to there