This may be found on the Contact Person tab:

You have the option to "Sync Selected Contact Person" this will refresh the bounce and unsubscribe data from MailChimp and update MailChimp with the Merge Tags selected for sync.
The "Properties for Selected Contact Person" allow you to subscribe the contact person, change the interest groups, check bounce and unsubscribed status and statistics from MailChimp.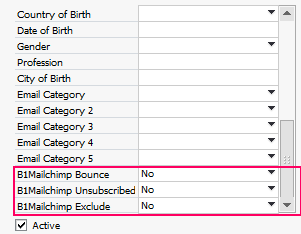 B1MailChimp Bounce: This status will be set to yes if MailChimp have identified the email as a bounce email.
B1MailChimp Unsubscribed: The unsubscribed status will be set if the contact person unsubscribes. You can change it from "No" to "Yes" to unsubscribe the contact person from you list in MailChimp.
B1MailChimp Exclude: If this option is set to "Yes" MailChimp will not try to sync/maintain this contact person. The contact person will also not be shown in "Add subscribers" or reports.