To use Mail Chimp you will need to get an API Key from Mail Chimp.
The API key should be inserted into the Mail Chimp configuration in: Administration -> Add-Ons -> B1 Usability Package -> Module Configuration -> B1 Mail Chimp -> Configuration.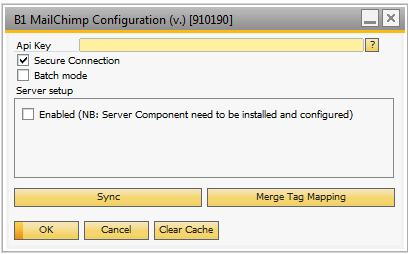 After inserting the API key and updating the form you are now ready to add your first subscribers to MailChimp.
Batch mode
If you enable batch mode some of the functionality in MailChimp will be done using batches. This will speed up the process of sync and adding subscribers but B1 MailChimp will no longer be able to tell you if the operation was a success. When running in batch mode B1 MailChimp sends a request to MailChimp and MailChimp then processes the request when they have time. This also means that it may take several hours for new subscribers to be visible in MailChimp.
Note: Interest groups when using the "Add Subscribers" functionality is not supported when using batch mode.
You can optionally setup B1 MailChimp to use our server component for automatic synchronization between MailChimp and SAP.
NOTE: YOU CANNOT SETUP SCHEDULES BEFORE THE SERVER COMPONENT HAS BEEN INSTALLED AND ACTIVATED.