The Authorization manager is a tool that extends the normal drag and drop authorization assignment in SAP Business One. The extension-points are:
- Option to apply authorizations to a number of users instead of needing to do multiple drag and drops.
- Option to Import/Export authorizations from one database to another.
- Use XML as templates for authorizations.
When opening the authorization manager, you will be presented with following window.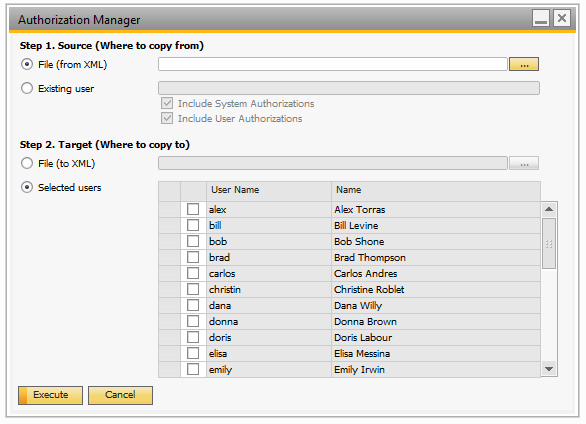 Using the tool consists of 3 steps:
Step 1: Select where to copy from
First you need to choose the source of where you wish to get the authorizations. You can either select an xml file (Exported from another database) or choose one of the existing users in the currently logged in database. If you choose an existing user, you get the option to include System Authorizations (standard authorizations defined by SAP) or/and User Authorizations (custom authorizations provided by users/add-ons via the "Additional Authorization Creator").
Step 2: Select where to copy to
Once the source is selected you need to provide your target which is either other users in the database (Check the user you wish to have the authorizations) or to an XML-file for import into another database (click the "…" button and define a filename for where to save the authorization)
Step 3: Execute the selection
Once the above selections are done you can press Execute and after confirmation of your selection begin to copy the authorizations.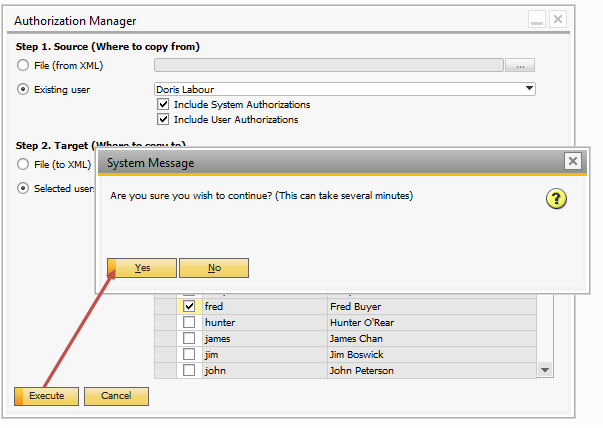 In this example we export all authorizations from Doris Labour and copy them to Fred Buyer.

The system will first find all Doris authorizations.

And then apply them to Fred as needed.
Once complete you get the confirmation of the copy is complete

NB: DUE TO THE NATURE ON HOW THE SAP SDK READ AND APPLY THE AUTHORIZATIONS THE PROCESS CAN BE RATHER LENGTHY THE MORE USERS YOU APPLY IT TO.