One of the great features of SAP Business One is that each user can have his/her own style of windows when it comes to columns in line-level structures (Example: what columns to show in an A/R Invoice). This is however difficult to maintain and is the reason for this tool. Please note that as of SBO2007A SP01, SAP is also providing similar functionality (new button in the User-management window; see SAP note 1369613 for more) but we extend their functionality in the following places:
- Option to apply form-settings to only specific windows instead of all.
- Option to Import/Export form-settings from one database to another.
- Use XML as templates for form-settings.
When opening the form-settings manager you will be presented with following window.
Using the tool consists of 3 steps:
Step 1: Select where to copy from
First you need to choose the source of where you wish to get the form-settings. You can either select an xml folder (Exported files from another database) or choose one of the existing users in the currently logged in database. If you choose an existing user, you get the option to decide which windows (Form Types) to include.
Step 2: Select where to copy to
Once the source is selected you need to provide your target, which are either other users in the database (Check the user you wish to have the settings) or to an XML-folder for import into another database (click the "…" button and define a folder for where to save the form-settings).
Step 3: Execute selection
NB: DUE TO THE NATURE OF HOW SAP SAVES FORM-SETTINGS UPON EXIT OF THE SAP BUSINESS ONE APPLICATION, IT IS IMPORTANT THAT THE USERS SELECTED AS TARGET IS LOGGED OUT OF SAP BUSINESS ONE WHILE THE COPY HAPPENS (IF NOT THE CHANGES MIGHT BE DISCARDED)
Once the above selections are done you can press Execute and after confirmation of your selection begin to copy the form-settings.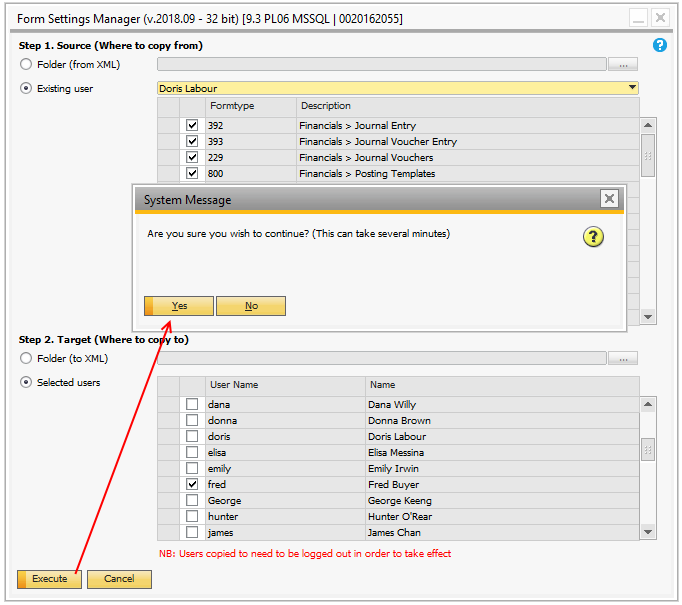 In this sample we export all form-settings from Doris Labour and copy them to Fred Buyer.
After you confirm the selection the copy takes place and finally presents you with the following screen.