After configuration (normally done by the super-user or the SAP Business One Partner), no more must be done. In use, the add-on could provide you with the following (Item that are marked as warning only will be shown last in parentheses).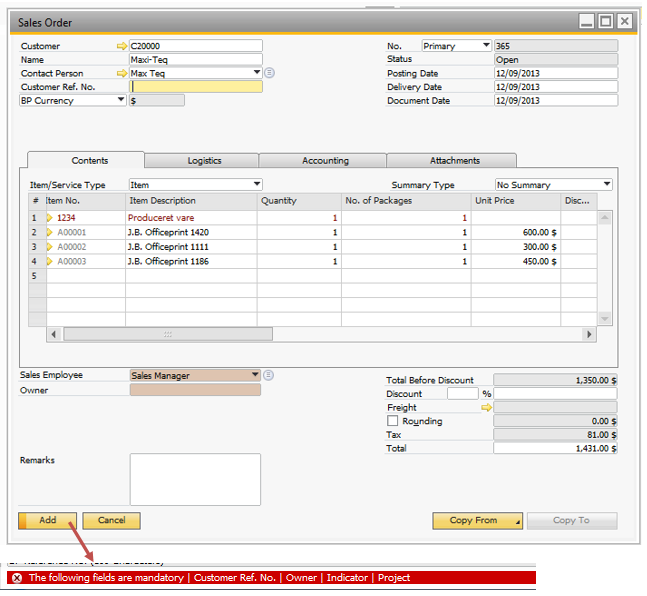 The document can first be added after a Customer Ref. No, a sales Employee is defined and indication and project is defined for each line of the document. If you have any warning only items a prompt will pop up asking if you want to continue anyway.
NB: IF THE ADD-ON FAILS, IT IS MOST LIKELY DUE TO AN ERROR IN CONFIGURATION. IN THAT CASE AN ERROR WILL BE SHOWN AND YOU ARE PROMPTED TO OPTIONALLY ALLOWED TO SAVE ANYWAY (NOT RECOMMENDED BUT DONE IN ORDER SO WE DON'T BLOCK YOU COMPLETELY UNTIL THE CONFIGURATION IS FIXED.
NB: IF YOU DEFINE MANDATORY FIELDS ON A WINDOW THAT HAVE THE SAVE AS DRAFT OPTION AND YOU USE THAT THEN ALL MANDATORY FIELDS ARE TREATED AS WARNING ONLY SO THE DRAFT CAN BE SAVED EVEN WITH FOR FILLING THE MANDATORY FIELDS REQUIREMENT (WILL COME LATER WHEN DRAFT IS TURNED INTO THE REAL DOCUMENT)
NB: THERE IS CURRENTLY A TECHNICAL LIMITATION IN INDICATION TEXT AREAS AND CHECKBOXES. THESE CAN AT THE MOMENT NOT TECHNICALLY BE MARK WITH A COLOR