The message you would like to display to the user. Can be up to 254 chars.
TIP: YOU WILL BE ABLE TO USE DYNAMIC VALUES USING THE $[$<ITEM>.<COLUMN>.<TYPE>] FOR DYNAMIC VALUES FROM ITEMS AND $[<TABLE>.<FIELD>.<TYPE>] FOR DATA SOURCES (AS DESCRIBED IN THE VALIDATION CONFIGURATION)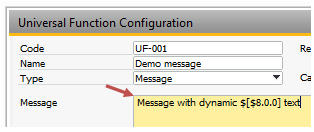 TIP: YOU CAN MAKE THE MESSAGE COME FROM AN SQL-SENTENCE IF YOU START IT WITH SQL:<SQL-STATEMENT>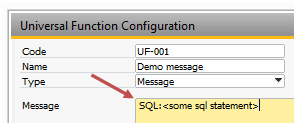 Sample: SQL:SELECT Notes FROM OCRD WHERE CardCode = $[$4.0.0] will show you a message with the result of the SQL.