With the Replace Sales Employee you are able to replace all occurrences of a sales employee on:
• Business Partners
• Open sales opportunities
• All open sales and purchase documents
You start by selecting the employee you wish to replace in the "Sales Employee to Replace" Combo-box followed by a click on the "Find Data" button. This brings up all occurrences of this sales employee down either on header - or line level.

You are now able to browse through the tabs and select the entries you want to have replaced. After making your selections you have to select the new sales employee in the "New Sales Employee" Combo-box.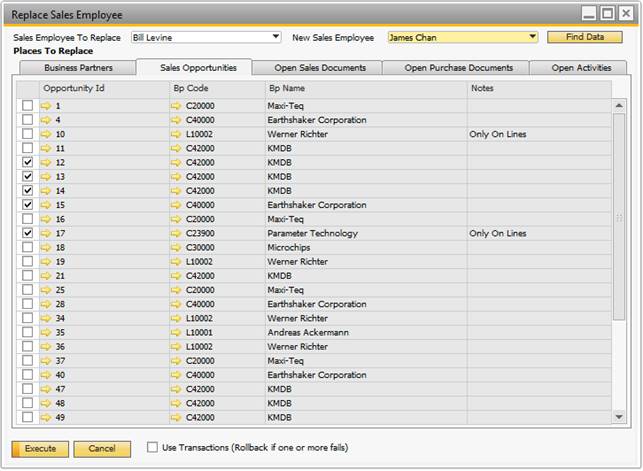 After selecting the new sales employee you have to choose wether or not you want to execute using transactions. This means that if either of your selections updates fail and you have transactions enabled, all of the updates will be rolled back. You switch transactions on and off by clicking the checkbox "Use Transactions (Rollback if one or more fails)".
After clicking the "Execute" button you will be prompted to verify that you want to update. If you choose yes the update will run and the result window will appear with the result. This update can take some time depending on the amount of selections.
You have now succesfully replaced the sales employee on your selections unless otherwise stated in the "Result notes" column.
NB: REPLACING A SALES EMPLOYEE ON OPEN ACTIVITIES IS DONE USING EMPLOYEES USER CODE. IF NO SUCH LINK EXISTS NO UPDATE WILL BE DONE. GO TO EMPLOYEE MASTER DATA AND MAKE SURE THAT USER CODE HAS BEEN SET.