When searching for a new business partner using NN Markedsdata or Brønnøysundregistrene, it is possible to check the overall company status – e.g. is the company bankruptcy and so on.
To access this kind of information, select the "Company status search enable" box in the provider configuration.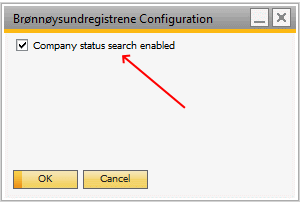 | Note: | Only NN Markedsdata and Brønnøysund have the necessary services to make these kind of lookups. Contact the supplier for more information. |
| --- | --- |
When enabled, Quick Create will search for the company status when the user has chosen a result from the list of search results. If the search only returns one result, Quick Create will execute the status lookup after the information has been added to the Quick Create window.
If Quick Create finds a status and the company runs normally, the business partner will be added as usual. Otherwise a warning will be displayed containing the status information: