The following conditions must be fulfilled before a settlement for a document can be done:
• Document Pay with Credit Card must be set to "Yes" or "As business partner"
• Field on the document related customer "Use credit card as default payment" must be set to "Yes"
• An active and default credit card exists on the customer or the customer is a one-time customer
You can activate the window manually using right click on the document in OK mode or selecting edit on a batch settlement line.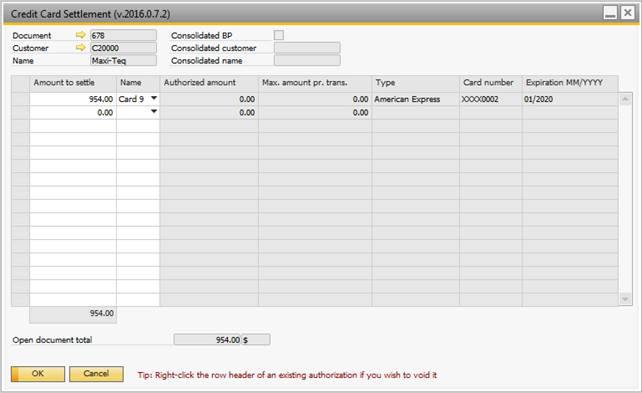 When the window opens, it will by default suggest the best possible settlement option based on existing authorizations and active Credit Cards. You have the option to change how the settlement should be done.
You can split it on multiple Credit Cards or you can choose to settle a lower amount than the current document total.

If you have an existing authorization on the document this will also be shown if the authorization can cover the settlement and it has not expired.

The authorized amount column will now show the authorization and the Credit Card selection will be read only as you cannot change the Credit Card on an existing authorization.
If you do not want to use the authorization you can right-click on the rows-header of the lines and unlock it: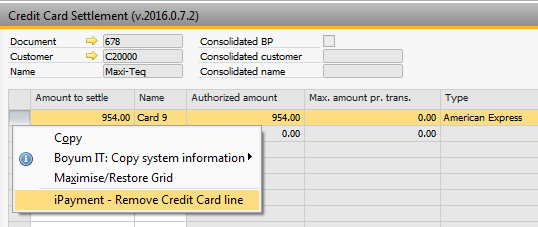 This will void the authorization during the settlement process (When you press OK) and you are now free to choose another Credit Card to perform the settlement on.
Clicking the button "OK" will either settle document or save the changes to the batch settlement window.