Note: This requires the Boyum Pack server component to have been installed and email settings needs to have been provided during the setup of the server component!
It is possible to schedule save/delivery of Dashboards to files/emails. In order to do it please go to Administration > Add-ons > B1 Usability Package > Module Configuration > B1 Dashboard > Dashboard Scheduler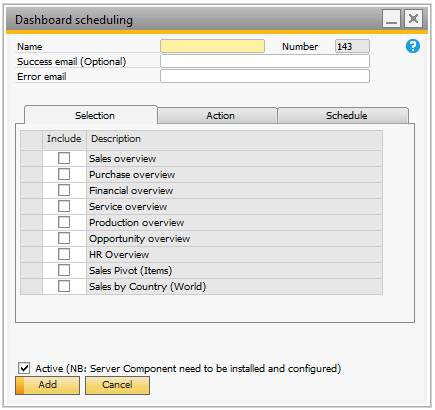 In here you give the schedule a name and define the mails to send to when the schedule have run successfully (optional) or if an error occur
Then on the first tab you define what Dashboards should be used by the schedule. You can choose one or more if you wish
Second confguration part is the the Action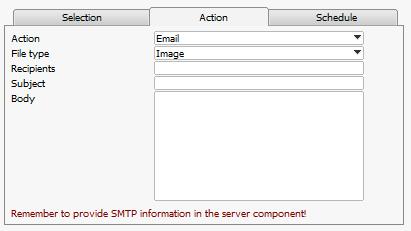 Here you choose if the schedule should create an email with the selected dashboard in previous steps or Save them to disk (handy when you wish to have a snapshot of how data looked at a specific date or if you wish to use the images in 3rd party reporting)
Next you choose the format the Dashboards should be delivered in (Image or PDF) and if Email the email recipients, subject and body of the mail. (in the case of Save action you instead choose a folder)
Finally on the schedule tab you choose the recurrence of the schedule of witch the B1UP Server Component should execute the schedule.