If you choose Multiple you will be presented with the following export window.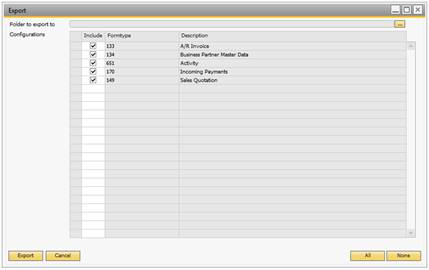 Once opened the choose folder dialog will appear where you need to choose where to store the configuration files. (You can change your choice later by pressing the "…" button in the upper right corner)
Now simply check/uncheck the configurations to include and press export. The result of the export is an xml file per configuration in the selected folder.
WARNING: AN EXPORT ONLY CONTAINS THE RAW CONFIGURATION. IT WILL NOT EXPORT USED UNIVERSAL FUNCTIONS, UDFS, UDTS, FORMATTED SEARCH ETC. YOU NEED TO MANUALLY SET THESE UP IN THE TARGET DATABASE.