If you choose to create a Custom Tab the following window will appear.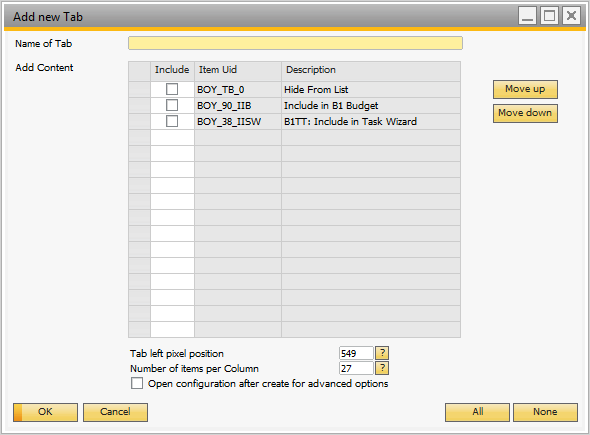 You have to give the tab a name, select what UDF's should be added to the tab and optionally change the order of those. You can also tell the left most pixel of the tab you a creating and the number of items there is placed below each other on the tab before a new column is created. The number of items per column is a default the maximum number of items there is room for with the windows default size.
When you press the "OK" button the Tab Wizard create an Item placement tool configuration or use an existing one. On this configuration a custom tab will be added and all the chosen UDF's will be added to the configuration.
NOTICE: THE TAB WIZARD IS A ONE-TIME CONFIGURATION AND IT CANNOT BE USED TO EDIT THE TAB GENERATED.
NOTICE: YOU CAN ALTER THE APPEARANCE AND ITEMS OF THE CREATED TAB BY EDITING THE 'IPT CONFIGURATION FOR THE WINDOW'.